UNICEF – CHILDREN IN ARMED CONFLICT



Problem: Millions of children are suffering as a result of armed conflict in their home countries. How can we raise awareness of this problem and increase donations for UNICEF?


Idea: We created a range of solutions to help tackle the problem, from creating indestructible shoes, to turning major brands into UNICEF ambassadors.
PROACTIVE CONCEPTS

Agency: Arnold Worldwide
Copywriter: MacKenzie Hart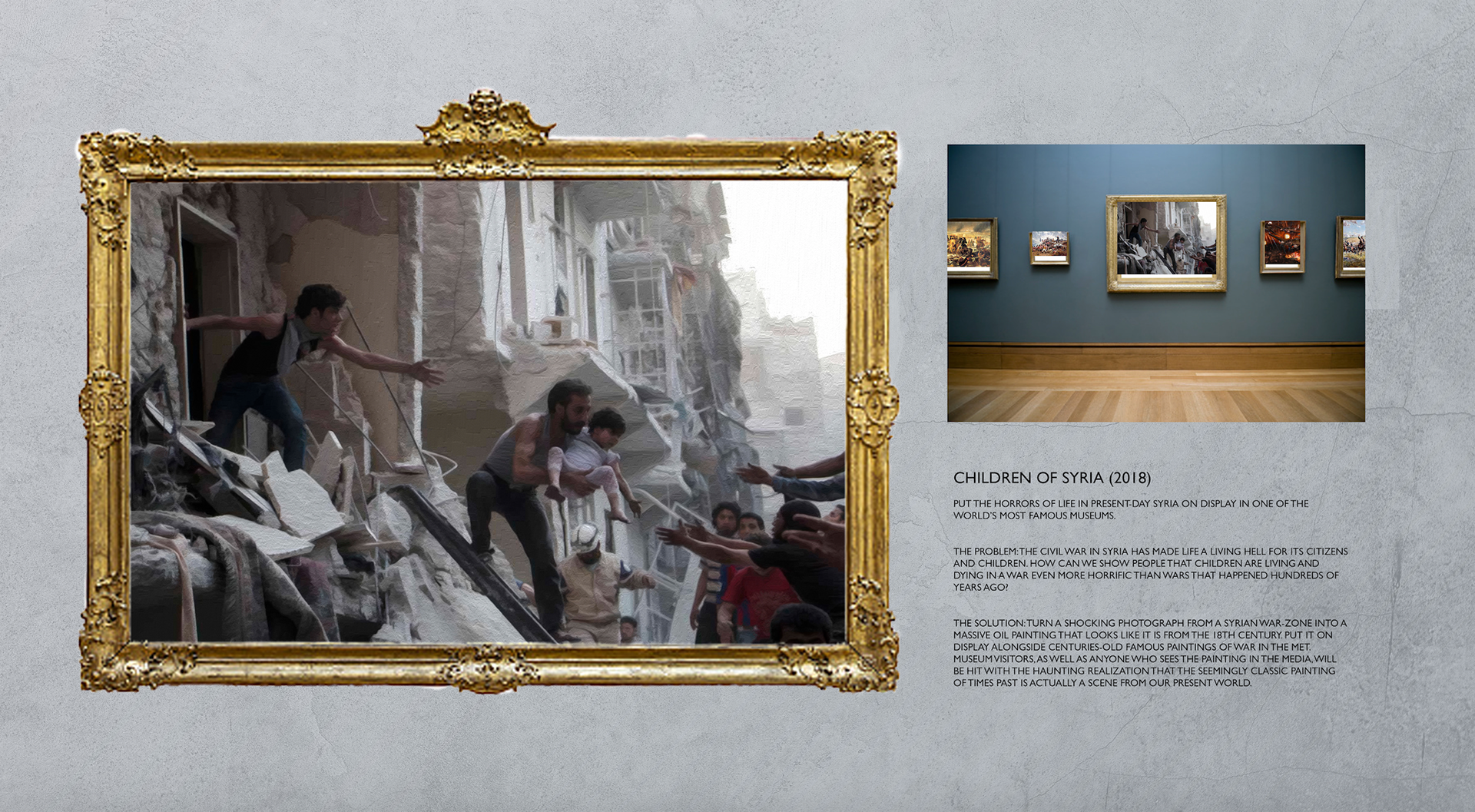 CHILDREN OF SYRIA


Challenge: How can we show people that children are living and dying in a war even more horrific than wars that happened hundreds of years ago?


Idea: Commision an artist to recreate a shocking photograph from a Syrian war-zone, in the style of an 18th century oil painting. Put it on display alongside centuries-old famous paintings of war in the Met. As they look closely and read the image description, visitors will be hit with the haunting realisation that this seemingly classic painting of times past is actually a scene from our present world.
UNICEF BOOK

Problem: There are about 27 million children out of school in conflict zones around the world. How can we help them to continue to learn while they are out of school?


Solution: Transform the iconic UNICEF box into more than just a symbol of hope, but also a tool for education. We'll print educational material and lessons on the boxes, delivering life-saving supplies and learning materials all in one box.
EVERLASTING SOLES

Problem: Refugee children often flee their countries with nothing but the clothes on their back and the shoes on their feet. Their shoes often get destroyed, and it is extremely difficult to replace them.


Idea: UNICEF partners with Nike to create a pair of virtually indestructible shoes for refugee children and a counterpart design for people in the U.S. to purchase for themselves. Every time someone in the U.S. buys a pair of the shoes, a refugee will receive a pair of the shoes.
WISHING WELL

Challenge: How can we get people to donate their disposable income to UNICEF?


Idea: We'll turn famous fountains around the world into UNICEF donation points for one day, making people's wishes into tangible support for children in need.
PACKAGING WITH PURPOSE

Problem: Girls in armed conflict areas rarely recieve basic sex education.

Idea: UNICEF distributes dignity kits to young women and girls in emergencies and conflict. We'll print basic sex ed information on the packaging of UNICEF-distributed female hygiene products included in these kits.